Daisy has been a great addition to the family. She is my ambassador dog- the first to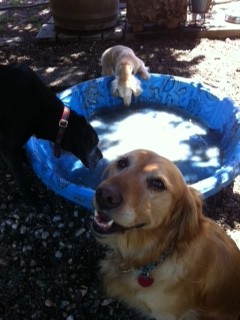 greet new dogs and their people. She is now a svelte girl-she runs a lot. When she first came to me she was winded after 5 minutes. Now she just can go on my jogs with me and she loves running with the boarders and day care dogs. This is Daisy's Pool party.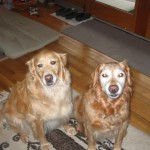 I've had Lily for six months. When I saw her picture, I knew Lily was the one, although she wasn't the age or temperament I thought I wanted. Luckily, we were all open minded. Lily is her own person, playful, joyous, independent and spirited. So individual and absorbing that she took my mind from grieving the loss of my beloved shepherd. I have chosen this picture, taken the day I brought her home. We are hopeful, joyous, excited and proud. I can't imagine myself with any other dog. Isn't she pretty?
~ Susan McLain
This is Maverick, our first foster dog…he was 6 years old when we fostered him last July. He was given up by his owners of 6 years. The last year they had him he was left outside 24/7 & pretty much forgotten (neglected). We did not plan on adopting him, but his sweet disposition was too much for us to resist. He became ours on Aug 1st.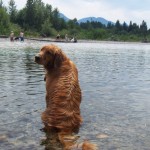 We adopted Jake in March 2006, when he was 11 months old, and despite the information about issues he had in the past, such as chewing and being destructive, we have had an amazingly easy time training him. He goes swimming, backpacking, and sledding with us, and is just an all around amazing dog. (And it turns out he's also extremely photogenic!)
We adopted Tanner July 2006 when he was 8 months old. After chewing his way through several rugs, knitting projects, and a Mariners baseball cap, he's grown up and is a great, well-behaved dog. He turned 2 this past November and he is such an important part of our family! This is a picture of him ENJOYING the beach up on Whidbey Island. He loves his morning walks, playing with his friends at the doggie park, and running full-out down in the woods at my Dad's place in Montana. Tanner is our second EGRR dog in about 7 years. Our first was Casey, who we got when she was 5. She died 2 years ago from liver failure and it broke our hearts. We love goldens and our friends and family enjoy sharing our special dogs with us.
I received a golden retriever from Rescue Jan 2006. Her name is
and she has been the greatest pet I've ever had. We are best buddies. She's loving, knows what she wants and how to tell me, and she's beautiful. I fell in love with her the first time I saw her. Just wanted to thank you all for making such a great match.
Posing with our our son Owen is Elias (formerly Seamus). Elias has been a great addition to the family and is great with Owen (now ten months) and our cat. He's a little over energetic at times but is settling down a bit as he now nears fours years of age.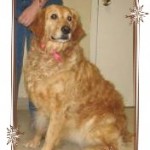 Please share with everyone involved with Dusty's rescue that we are SO VERY happy and think she is enjoying her new life too. She's been to my hairdresser's and my office and anywhere else I can take her. She likes her walks almost as much as her naps and toys. It's hard to remember what is was like before she came into our lives and I can't imagine not having her. Thank you Jim and the animal shelter folks in Wenatchee.
I've had Ginger for 5 years now, my second rescue Golden. I still remember the first night I brought her home, about 9 o'clock, she went into my bedroom and climbed in my bed…and that's where she's slept ever since…(unless of course the cat tries to snuggle up with her and then she gets down with a huff that seems to say "Ugh…cat…ewwww.")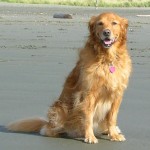 I can't believe how lucky I got the day her first family left her behind when they moved. Ginger is so smart, she is truly 'a short person in a dog suit' Once I heard the garbage bag rustle and when I looked over she was standing there all innocent looking, then she came over and stood behind my chair and I heard her chewing. I guess she figured if I couldn't see her, it didn't count! She seems to have her own fan following, at the local coffee stand, at work (she gets to go sometimes when the boss is away); almost anywhere I take her, they always ask for her if I go back without her. (She's also my Mom's favorite Grandchild!) The coffee stand is her particular favorite because she gets treats when we walk there every weekend, sometimes one from each person working. One thing I almost forgot to mention is that Ginger only has 3 paws, she's missing one of her back feet and only has a 'nub'. She only walks on it when she's on grass or carpet (it'd be like your or me walking on our elbows) and does the hop-along thing on hard ground. She does so well that most people never even notice she's 1 paw short. Of course, 3 paws or 4, the love's just as good! Thanks so much for bringing us together.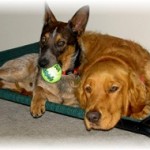 I feel so fortunate to have adopted Tassie (tass means paws in Swedish). When I heard from EGRR that a golden was going to be available at Bellevue animal shelter on a Friday afternoon, I made sure to get there before the doors opened. I brought Samantha (Sammy), my 10 year old lab/border collie mix to meet the golden to see if the dogs were compatible, but for the introduction meeting they put us all in the cat room and the dogs never even looked at each other, they were so busy smelling for cats! Even so, I immediately knew this golden was the one. Her patience was immediately tested and she passed with all A's when my Jeep broke down at Colman Dock on the way home from Bellevue to Bremerton. We waited four hours in the June heat wandering around the auto loading area waiting for the tow truck. That was our first bonding experience! I don't know how anyone could give up this sweetheart who is so loving, gentle, smart, patient and obedient, and so tolerant of her obnoxious Australian Cattle Dog companion, Rudy, a rescue who unexpectedly arrived here shortly after Tassie's adoption and who constantly steals the tennis balls Tassie loves. Tassie is a real ball dog, who retrieves and drops the ball right at my feet! She also plays outfielder and loves to run out, turn and wait to catch high flying balls. These two now share Sammy's home, and all three dogs are so ball crazy I'm always juggling and tossing balls for someone.
The instructor for Tassie's Canine Good Citizen class has encouraged us to apply for the AKC Indefinite Listing Privilege Program in order for Tassie to participate in obedience trials. I think Tassie would enjoy the competition and I look forward to working with her.
Update: Tassie was adopted from EGRR via SPDR in July 2006 and has since moved to California where she enjoys a 1/2 acre backyard (albeit full of weeds right now). Tassie had emergency surgery in March when one of her biggest fatty lumps became infected and burst (yuck!), but the hair is growing back now. She is the absolute Golden: sweet, loving, playful, always ready to eat and always ready for a ride!
On May 10th, EGRR moved Carmel into her foster home and on May 12th, she delivered 11 puppies by c-section. 9 survived and were healthy and did very well. Carmel is a wonderful mom and has the perfect Golden temperament. Although the sire of the litter was not known, the puppies were seen by several experienced Golden Breeders and were thought to be purebred. We can confirm that these puppies have been very well cared for by both Carmel and the volunteers and have been well socialized throughout their growth stages and psychological development and made wonderful pets. Placing puppies this age was a huge responsibility. Over the weeks of caring for and working with these puppies, each pup will showed a temperament unique unto itself. We would like to thank all the volunteers who helped out with EGRR's first litter.
Cassie (1548) is our BABY GIRL–we can't remember life without her in it now! She has added so much joy and companionship to our lives. I have had many dogs in my lifetime, and I must say that Cassie is the sweetest, most lovable dog I have ever had! Everyone who meets her falls in love with her. I think she will always be somewhat "timid", and will always need constant reassurance–but that's OK. She has made "leaps and bounds" since we got her in October. Remember how she was so afraid of the stairs, and walking up & down hills? Well, now she runs up and down them like she has been doing it all of her life. She is SO smart….as most Goldens are, She LOVES her stuffed animals….and carries them all over the house…."squeaking" them all the way. She is so funny. Everyone tells me how "lucky" Cassie is, for finding us….but I think it's the other way around. We are the lucky ones. She will have that sense of security, trust, and love for the rest of her life here with us.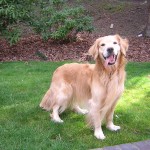 Falcore is a true pet now. We most recently took him to Whistler BC for 3 days. He doesn't like riding in the back of the car, but prefers to be in the middle between the two kids. So we made him comfortable and he and the kids were great traveling companions. Falcore vacationed really well and got used to riding the elevators when we took him out. Of course everyone loved him and he in turn loved everyone, turning on the charm and getting a pat from anyone who would oblige. Quite a little ham he is carrying his stuffed duck around like a prize! Steve and I tell each other that he is our reward we got for loving our previous dog Spencer who wasn't always the easiest dog to love.
Joey (1499) We love him as does anyone else who meets him. He is a typical youngster. We've had a few chewing incidents but we've learned to keep his toy tub full of new and exciting things. We have been told by several people we've met walking him or at Marymoor etc. that they think he might be a Nova Scotia Tolling Retriever and looking at the official web site for this breed he does look exactly like some of the pics. But he definitely has the affectionate golden personality and we call him Curious George because like the little Curious George monkey he is interested and fascinated by everything. We feel so fortunate to have gotten him and it feels good to know he has now spent more of his life with us than in kennels and foster homes. Thanks for helping the EGRR.
Katie (1428) I had a Golden for 13 years and was devastated when we lost her to heart disease. I swore I would never go thru that experience again. One day and six years later, I was in the "mind set" of having a Golden. By chance, this wonderful, kind person was standing next to me at the THS and gave me her name and address. She mailed me an application form from Evergreen Rescue. One day I mailed it in–within one week I had a call, one day later I had Katie. I am sure that everyone was holding their breath that she would work out. WORK OUT is the under statement. She is my constant companion. She is the best of the best. We (and about three vets–all working together) solved her allergies. It took some medical attention, time and dollars, but well worth it. Sometimes I read over her past vet records and I literally sit down and cry. She is a happy, healthy dog. She loves unconditionally (and she gets it back).
In October 2003, we lost our wonderful Golden, Spritzer and needed some time to recover from the loss of our special family member. We have a son who was having a tough time in school and suffers from some mild special needs. He was devastated more than we realized from the loss of Spritzer and we saw a real decline in all aspects of our sons life. It was time to find a new four legged friend for Taylor and for us. Our family has been involved in animal rescue in Portland, I was responsible for all of the dog adoptions for Animal Aid for several years, so we know the value of rescue organizations and how much effort, thought and time is put into the placement. Matching the family carefully with the dog. We contacted Golden Rescue, but came to realize that it might take months to find just the right family member. The wonderful, dedicated volunteers, including Desiree and Nancy, went right to work to find us the perfect dog, one that would make a struggling young teen especially happy.
Several weeks after putting our application in we got a call that Maggie needed a new home. Poor Maggie spent most of her time in the familys very small back yard and she was clearly overweight and her coat reflected she had been under quite a bit of stress. We adopted 4 year old Maggie in July, 2004 and we could not be happier. She no longer has any bad habits like stealing food or jumping on guests but she has always been anxious to please and is doted on in her new home. She gets walked twice a day, spends hours with my husband at our shared property on Beaver Lake, she goes nearly everywhere with us and she has made our son so happy. His grades have improved, he has lots of friends once again and he and Maggie adore one another.
Thank you Golden Rescue for this wonderful gift. We are very grateful to you and to Maggies original owner for realizing that sometimes, sacrifices have to be made in order to give your pet the life it deserves, a better life can sometimes exist with a different family in a different setting, a family that has more time or perhaps energy to create a loving, special environment for Gods special 4 legged creatures.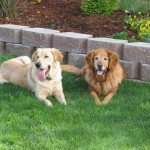 Cody Comes to Stay. We had been proud parents of two wonderful Goldens until a couple of months ago when Butler, our oldest and rescued at age 2 years, passed away quietly in his sleep at age 12. Brinkley, now our oldest at age 9, came to us as a puppy and had never known a day without her life long companion Butler. She obviously missed him and visibly mourned him. The morning Butler passed we took him to his Veterinarian to have him prepared for his last journey. On that very day for the first time a representative of Evergreen Golden Retriever Rescue stopped by their office with a stack of flyers. The Vets Assistant and our puppy sitter thought it was too much of a coincidence and brought us a flyer. After about a month of looking at the brochure on our desk and watching Brinkley mope around we decided to fill out the forms. It was a couple more weeks before we actually mailed them in. Then came the call. A young Golden boy was found wandering the streets of Puyallup a couple of months ago dragging a leash but no identification. His foster parents named him Cody. It was love at first sight for us, and just what Brinkley needed. After the first week of the getting to know you rituals which included grunting and snorting, tumbling and rolling with no one getting hurt, Cody and Brinkley are rapidly becoming the best of friends with lots of playing and nonstop running. This is Cody. He's handsome? He is so expressive we think he can even make Brinkley laugh. What a wonderful gift for us all.
Carmel is a joyful, happy girl and our "Velcro" dog. Even though her favorite time of day is meal time, with her strict diet she's lost 19 pounds. She only has about ten more pounds to lose to get to her ideal weight. There is improvement in her mobility every day and she can even play chase with her two Australian Shepherd "sisters". Next to rides in the car her favorite game is "catch" with the bright red ball she carries with her everywhere. It's hard to imagine what our family was like before she became a part of it. We seldom go anywhere without our "babies" and Carmel is a perfect lady wherever she goes. She smiles all the time. I guess she knows she has a forever home. And we're smiling, too.
This is Tucker, one of the puppies from Carmel's litter. He is ten months old in this photo, weights about 70 pounds and is still growing. He is the sweetest and happiest dog ever, a fast learner, knows all his basic commands and works for praise. He's so good at "leave it" he can do that silly trick where he balances a treat on his nose until he gets an "okay" and snaps it up. He did it perfectly on the first try! I'm a self-employed artist so we get to spend almost every moment together. We're both very happy and really thankful for all the great folks at Evergreen Golden Retriever Rescue.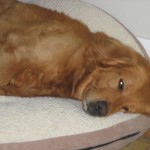 We received Jackson (formerly Max) last month and have to say that we are smitten! We lost our 14 year old Golden early last year and we were very hesitant to move forward with the adoption process, wanting time to grieve. Now that we have Jackson we realize that he IS part of the healing process for us. We have so much love to give and this boy needs it. He came from a home where he was an "outdoor" dog, but now that he is home with us he has become a real companion and a fan of soft dog beds! He is excelling in obedience class, he just wants to please us! And our Lab doesn't think it's so bad to have a new pal to play with either. The whole EGRR process has been so enriching for us. Thanks to you, we have a complete family again!
A little over a year after losing my 14 year old golden girl to cancer, I finally felt I was ready to add another member to our family. I submitted my application to Evergreen fully expecting to adopt an adult female golden when the right one became available. When I was contacted and asked if I would consider a puppy I was very excited. I began to visit the litter of 9 pups, getting to know them and their personalities. There was one little female I was especially taken with but because there were only 2 girls, I was told it was unlikely I would get one. There was a large male I also liked. The problem was, I did not get to choose which pup I would get and I got no clue until the day we were to take them home. We were matched with the pups using our application and their personality tests. As it turned out, I got what I thought was my third choice.
Little did I know at that time that I actually got the BEST choice.
This little man, now named Kit, who grew from less than 10 pounds to almost 70 in the past 7 months, has stolen my heart and become an integral part of my life and that of the family. We spend most of our days together and go virtually everywhere together. We are currently attending obedience classes and I hope to continue with him into some form of therapy work. Kit and I have play dates and sleepovers with the little female I was enamored with so I have the best of both worlds with my own little man and as auntie to her. I am looking forward to many, many years with this wonderful new companion and give heartfelt thanks to EGGR, Sue and Rich Randall as well as the rest of the volunteers who spent so many hours of their time ensuring that Carmels puppies received the best of care before they went to their new homes.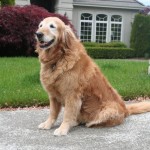 Candy is at my feet as I type this — that's her spot when I'm at the computer. As a stay-at-home mom, she keeps me company throughout the day until my son gets out of preschool, and she's always happy to see him, too. She just turned 8 years old, and we've had her a little over a year now. When we got her from EGRR, she was grossly obese (102 lbs. at her max), which was really the only thing wrong with her, because she's a terrific dog. With proper diet and regular walks, she's now under 70 lbs. and looks great. She has a lot more energy and has a great time running around Marymoor dog park. Because she is so gentle, she's also a big hit at the local playgrounds, and kids just love her. She seems to know what we want even before we ask it, and we think she would probably make a good therapy dog. In short, life is good for her now, and ours has been enriched immeasurably. EGRR did a great job matching us up with her.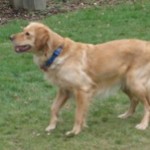 When my rescue golden named Bear passed away I felt that I had lost a good friend. I had only had Bear for 3 years and he was a knucklehead at times but still had the lovable Golden personality. He was always there at the door waiting for me when I came home from work and he helped me get through a very tough time when my son was wounded in Iraq. Bear personified why dogs are called man's best friend. I felt that it would be almost impossible to replace him. Then I met Lucy. I had heard that she was a female with a past and that she did not get along with other dogs but neither did Bear although was a good friend to my senior Golden named Dylan.If first meetings make a lasting impression then Lucy's was a great one.She came bounding through the back door of Roy's house and came right over to me with her tail wagging. It was a great first meeting and when I saw that she got along with Dylan it was a done deal and off we went.
Lucy has really blossomed over the past year. I could not think of leaving her home when I go hiking as she enjoys being out on the trail. Lucy always enjoys what I have to see on our weekly hikes. She is Michael Jordan and Ichiro combined when it comes to chasing a frisbee or tennis ball. We call her the princess sometimes as she has taken over the house in her own way but she is a Golden after all. Lucy is the third Golden Retriever Rescue that I have owned over the years and I can honestly say that they make some of the best pets one could ever own.
Lilly is a beautiful girl who is filling a large void for us and our 12 year old Sunny after losing our dear 14 year old Gillie 2 years ago. We all hit it off instantly, love at first sight! Lilly is making large strides with issues of anxiety. Everyone pitches in, even our cat Jet, to give her the reassurances she needs to feel relaxed, welcomed and loved. She loves her regimen of daily walks and swims in the Columbia River. She likes meeting her new friends on our riverfront walk and also loves "helping" me in the shop.
Everyone she meets falls in love with her instantly. She loves her stuffed "babies" and carries them all over the house. We feel very fortunate that Lilly found us. We look forward to giving her the love and comfort that she gives us in return every day.
Bailey is doing great! He is an awesome dog and he is so loving and wonderful, I cant believe that no one wanted him before us! We got very lucky and Im so glad we adopted him! He totally fits in with our family and gets along great with our other Golden, Abby. They are a lot of company for each other and they play and rough house all the time! Bailey is the lighter colored one and Abby is the redhead!
Dawby (previously Bobby) After Bobby's first adoption failed, the volunteers for EGRR decided that Bobby needed a job to do so they contacted a trainer at the Prison Pet Partnership Program in Purdy, WA. In this program, inmates at the women's prison train dogs to be service dogs. Bobby, renamed Dawby, did well with his training and graduated in April, 2006. He now helps his new Mom with mobility, retrieving objects and opening doors.
After 26 years and four Golden Retrievers, we survived two years without one. We discovered EGRR and voila, along came Sadie. At the end of her first day with us, it seemed like she'd always been here. Sadie is eight years old and a comfort junkie. We wonder what her days were like before. She is now in a place with lots of comfort, lots of walks and lots of love.
Molly came to us early this summer. We already had three dogs. The EGRR representative didn't even bat an eye, of course I was speaking to them on the phone, they seemed
to understand that sometimes it take 4 dogs to make a home. And that is what we have now, a home. Molly is a 10 year old plays all of the time with Oscar. She lies on the floor and he crawls all over her, wrestling and chewing on each other. She gets along with Maggie and Emmy and our cat, Bobby. Every morning around 7 she woofs. This is her question if it is okay for her to get on the bed. She is so big that we can't sleep well but we get to cuddle and it is a great way to wake up. Molly is a typical Golden, she gets along with everyone and follows us wherever I go.
Jerry "Guardian of the Sofa" was placed by EGRR several years ago to be trained to work in law enforcement. After outliving his usefulness as a Narcotics De tection Dog, he was returned to EGRR in early 2006. Believing the bond of adoption, especially with a working dog, should be for a lifetime, a sheriff's deputy, who had the previous year adopted an EGRR dog and trained him in narcotics detection, and his wife welcomed Jerry into their family. They both understood Jerry's toy drive and need for human bonding and Jerry's new Mom gave him purpose with a new job. He does agility every week and has even won qualifying ribbons in several agility trials. Jerry did have to re-learn some behaviors however, the first time he went in a tunnel, he would not come out because he was looking for drugs!
Elvis is a joy in my life, my constant companion, best friend, and the finest gift I've ever received. We're together all day everyday. He was two and I was living on Camano Island when EGRR gave him to me. He didn't know his own name, couldn't climb stairs or walk on a leash, had no idea that kitchens meant food, and was so desperate for love and attention that he shadowed me through out the day. He was a scrawny gangly fearful guy who was hesitant to try anything new and expected the worst of other dogs. Over time I realized that he'd been trained as a hunting dog and that he responded to hand signals. I'd been wondering why on earth he kept looking at me the way he did. He walked in the circles that you see in dogs who've lived caged. His teeth were ground down, probably from chewing on stones. I fished stones out of his mouth for the first year or so. On Camano he began to come to life. He swam most days, played endless games of tennis ball and frisbee and fell in love with stuffed toys. He carries one everywhere, even to bed, and loves making them squeak. Elvis is eight now. Gradually over the years he's become more confident. He's learned to play and I swear that sometimes he laughs. His eyes twinkle when he's having fun. He's even occassionally been naughty, looking guilty when caught. This delights me. We live in Colorado now and Elvis has become a Rocky Mountain dog. He loves snow.. Plays in it like a puppy. His best friend is a neighboring Golden, Dakota. He's developed allegies as he's grown older, but we can keep them at bay with an organic diet, veggies, and supplements from the holistic vet. He loves everyone except the UPS man. And everyone loves Elvis….except the UPS man. He's ever so smart and amazes me with what he understands. He adores cats. He greets them with that touching noses thing that cats do. I can't imagine life without him. He came to me when my son was dying of cancer and watching him come to life, living with his constant love and affection, has made a huge difference in my ability to keep on.
Not just in November, but many times each month, we remember the gift you bestowed upon us four years ago in the form of our CC (constant companion) Dolly.
As is the case with almost all Goldens she is just slightly nutty, but that is an endearing trait of the breed and all of her aberrant behavior that was so unsettling in her first few years with us has vanished.  The advice we got from you and others at EGRR was right on the mark in that behavior problems can take many months to work out.  She is rarely very far from our sides and shares company with us in a spirit of mutuality rather than dependence.  We have belonged to her for four years now and we are now in our mid-seventies but she still gets her four outings a day including a mile twice a day.  I have asked her to assist me in getting out of deep chairs and she seems to enjoy the task in a manner that I maintain is so wonderfully typical of the breed.  When you bestowed her to us we worried a bit that our age would be an impediment to her being fulfilled and complete in her enjoying  life, but I am now confident our original worries were groundless.  She is happy, healthy and sound and is an anchor in our lives. Thank you again for all you have done to bring the three of us together.
We adopted Rusty and Sandy (AKA Blues Brothers Elwood and Jake) in the Fall of 2010. Since that time they have become our 'boys' and we talk to anyone who is polite enough to be an audience about their antics, take every darling picture of them snuggling together, or being silly or just when they pose so handsomely for the camera. We were extremely fortunate and have never taken them for granted. They are spoiled and take priority in our lives.
Rusty has become a Therapy and accompanies me with my clients in counseling sessions. He is a natural and has great timing, empathy and sincerity. My clients love him and he has truly added to the value of their therapeutic experience. He is very much in touch with people's emotions and is a caretaker.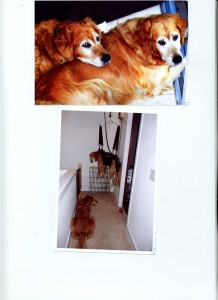 Sandy is an imp. When he is in his full stride he is jumping and getting into as much mischief as possible, with a big grin on his fave, looking to his brother at all times to be there at his side. They are still very much dependent upon each other in different ways, but can now be separated for many hours at a stretch an be OK about it. They have each developed some independence, but they will always rely on one another. They will each take one of us during the day and stay at our side, but when bedtime comes they'll settle in together and snuggle for the night. That's our boys.
I've had Lily for six months.  When I saw her picture,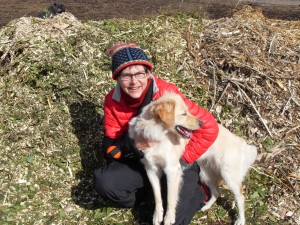 I knew Lily was the one, although she wasn't the age or temperament I thought I wanted.  Luckily, we were all open minded.  Lily is her own person, playful, joyous, independent and spirited.  So individual and absorbing that she took my mind from grieving the loss of my beloved shepherd.  I have chosen this picture, taken the day I brought her home. We are hopeful, joyous, excited and proud. I can't imagine myself with any other dog. Isn't she pretty?
On Sept 21, 2008, I adopted Marley from the Evergreen Golden Retriever Rescue (EGRR) association. At the time, his name was Barkley and I was 2 days shy of turning the big "35" and was picking my mother up from the airport later that day. She was coming in because we share the same birthday date. We had planned an extravagant trip to New York to eat fine food and see a Broadway show to ring in this seemingly monumental birthday of mine but ended up staying in town to get to know Marley, and as it turns out, each other. We spent the extended weekend playing, taking long walks, and catching up. It was a great birthday.
When I first met Marley, he reminded me of a big, friendly bear; one that everyone would want to hug and one that would want all those hugs. He was a big boy, weighing in at 140 lbs, but as sweet as can be. His owner surrendered him because she no longer had time for him so he was left alone outside most of the time. I owe her a big thank you!
For years I had wanted to get a dog with the temperament that would be good for the Reading with Rover (RWR) program, and he was it.  RWR is a non-profit volunteering program made up of "pet therapy teams" of owners and their canine companions. These teams gather at different libraries, schools, bookstores, etc. around the Puget Sound area for children to read to them. Studies have shown that this type of educational therapy significantly increases children's reading and social skills, and it's just plain fun. Marley has already received his Canine Good Citizen certificate and Marley and I will become a RWR pet therapy team after completing our shadowing hours in the summer 2010. We plan to begin a RWR program in the West Seattle/Burien area where there currently is none.
One year after adopting Marley on September 23, 2009, Marley and I, along with my partner and her canine companion, hiked up Snoqualmie Pass to plant a flower in remembrance of my mother. She passed away suddenly on March 10, 2009, from a brain aneurysm at the age of 54. I had no idea one year before that we would never spend another birthday together again. So now, whenever I look at Marley, I remember my mother and us spending that weekend together. He is a perfect reminder of that special, and last, mother-daughter time spent together.
Marley and I have looked forward to becoming a RWR team but will do so now also as an act of commemoration of my mother's spirit. Thank you to EGRR for providing me with not only a wonderful companion but also a cherished and heartfelt memory.